---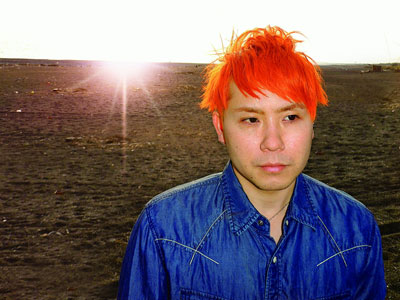 Left:Norihiko Ishizaki  July.5
(Vo)
special guest guitarist for 'futari' 3rd album 'green boys' is
Federico Miranda from Gandhi,most famous rockband in Costa Rica!
engineer is Colin Suzuki,American,working for most famous recording studio in NY 'Avatar Studios' and now for Japanese rockband 'rize',rock guitarist 'char'.
photographer is Juan Carrera,Argentina,for famous Japanese fashion magazine 'LEON'.

'futari' is Takuro Onuma(Vo,Ag),Norihiko Ishizaki(Vo).
futari has over 100 live performances in every year,their style is not only acoustic,but also rock,hiphop,and more.
They formed in 2005.NORIO is the professional producer(www.myspace.com/djnorio) found them and produced 1st album 'Ninomiyamachi',this album over 1,000 sales in three months.
And they were recommended as a goodwill ambassador for Ninomiya-machi town,where they live in,
and interviewed from famous newspapers,Asahi newspaper,Kanagawa newspaper,and more.
In 2011 2nd album 'small cherry'.there was a story about it.After huge earthquake in East Japan,NORIO watched the tv news about a woman working for Kunimi parking area of Tohoku highway in Fukushima,she was writing her answer for the encouragement messages on the message books,writing about encouragement for people in East Japan.
NORIO and futari were moved to know the story,so decided to write a song for her,imaging as a special stuff in this area,cherry.And after that futari suggested to have the event for reconstruction assistance,and having a live.(2nd CD over 2,000 sales).
In 2013 3rd album 'green boys' as cover version of very famous Japanese group 'GReeeeN',this song is also the encouragement for people in East Japan,GReeeeN members are interested for futari.
3rd album on sale,TOWER RECORDS Japan,HMV Japan,disk union Japan,and amazon.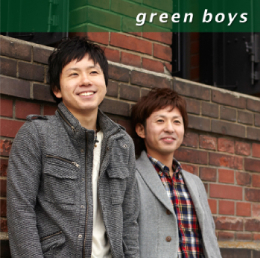 'futari' 3rd mini album 'green boys'
1.green boys(GReeeeN's song cover version)
2.kazeni fukarete (original song)
3.subarashiki chosenshatachi (original song)
avion records ANCA-0005


---
TOPへ戻る
(C)FUTARI